The cast is here, the cast is here!
Fist pumping is back and so are the faithful watchers. The fourth season of "Jersey Shore" returned last night in all its gudio/guidette glory. We wanted to share with you our top three moments of last night's premiere. All of which happened in the first half of the episode. Here they are…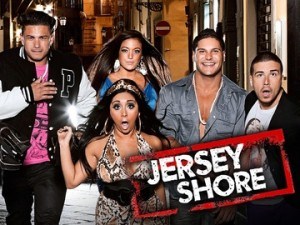 TiVo's top three  moments of the Jersey Shore premiere based on the most watched and re-watched moments:
When Ronnie breaks the side table and falls to the ground
When Sammi and Ronnie first say hello when they all arrive to the apartment
When Deena trips in the Milan airport upon arriving to Italy and her bags fall.
Miss the season premiere because you were out on the town fist pumping and dancing? No sweat. Your broadband-connected TiVo box allows you to set recordings while on the go. So you'll never miss any of the drama, fights and tears. Learn more.