Batter Up! Enjoy Summer Baseball Flicks on Your TiVo DVR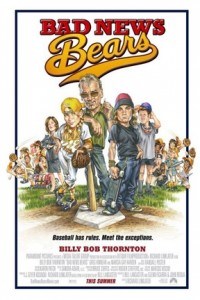 Summer is practically synonymous with baseball so make sure you are prepared for the 2011 All Star game. This year marks the 81st All Star game, which you can catch on Wednesday, July 13th on FOX…so set your TiVo DVR now! To get you ready and in the mood for the big day here are some classic baseball movies:
A League of Their Own: Tom Hanks and Geena Davis star in this big-league comedy based on the real-life exploits of the All-American Girls Baseball League.
Fever Pitch: A contemporary romantic comedy about a successful woman who thinks she's finally met the perfect guy. Everything seems ideal until baseball season begins, and she has to compete with his first true love: the Boston Red Sox.
The Bad News Bears (2005): A grizzled little league coach tries to lead a ragtag team of misfits and delinquents to victory in this remake of the 1970s classic. With little hope that his new team will be any good, grouchy Buttermaker (Billy Bob Thornton) manages to find each kid's special talent. Amanda, Kelly, Toby, Tanner, Engelberg, Lupus and the rest of the team eventually win a place in Buttermaker's heart. Greg Kinnear and Marcia Gay Harden co-star.
Field of Dreams: Kevin Costner stars as an Iowa farmer who hears a mysterious voice telling him to turn his cornfield into a baseball diamond. He does, but the voice's directions don't stop — even after the spirits of deceased ballplayers turn up to play.
Everyone's Hero: From Director and Executive Producer, Christopher Reeve, Everyone's Hero is a warm and funny tale about 10-year-old Yankee Irving, a young boy who embarks on cross-country quest to return Babe Ruth's stolen bat.
Mr. Baseball: Jack Elliott's baseball glory days are over, or so it seems. No longer the athlete he once was, he's traded to a pro team in Japan, where he promptly angers everyone around him with his arrogance and ignorance. Only the love of a Japanese woman, who teaches him to respect the culture of his new home, helps Jack redeem himself.
Rookie of the Year: After slipping on a baseball, klutzy Little Leaguer Henry Rowengartner breaks his arm, putting him out of commission for months. When the doctor finally removes the cast, an astounded Henry discovers that — miraculously — he can hurl a 100-mph fastball.
Which of these is your favorite?
The titles above can also be found for rent or purchase through Amazon Instant Video or Netflix on your broadband-connected TiVo box. To learn more on how to access these features visit tivo.com