TiVo Named a Bay Area 2011 Top Workplace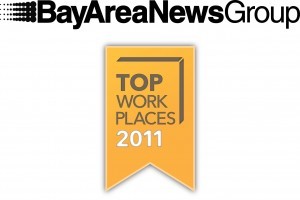 Today is a first for us here at TiVo.  TiVo employees have always shared their enthusiasm about the product and services they built for the world.  We're users like you!  What we have not shared, is how much we enjoy working with each other.  That's changed with TiVo now being named a Top Work Place in the Bay Area for 2011.  The results were published in the San Jose Mercury News this past weekend and we are honored to have made the top 10.
It's a great a testimony to our TiVo staff here in California, New York and in the field.  They make the TiVo® products "just work" – and they do it with a style that makes the best of our culture thrive.
Here is a snapshot of some of those attributes:
Collaboration – The cubes we all use don't make us share.  What drives us to work together within and amongst teams and functions is the nature of our products and services.  They're so integrated and work together in tandem.  An ecosystem can't be siloed or isolated.
Community involvement – For us, this isn't an executive mandate or a PR initiative.  Philanthropy starts at the grassroots.  Every blood drive, walk, ride, donation starts with an employee personal story that drives them to make a difference and invite their coworkers to come along and help.  Such ownership is encouraged by TiVo's leadership.
Curiosity – This is encouraged when as a company or teams get together on a regular basis.  It may be to celebrate a historical event, holiday or for fun.  Our business matches tough technical challenges with wonderment, getting to know each other outside of work roles and being playful throughout the year.
Maybe you might find this environment a match for you?  We engage independent contractors and temporary workers along with the hiring of employees.  You can find all of our current openings and ways to join our talent community here.
To my colleagues, congratulations!  Thanks for letting me work with and for you!
William Uranga
William leads the band of recruiters at TiVo Inc and can be reached via Twitter and LinkedIn