TiVo's Father's Day Survey Names Cameron Tucker of "Modern Family" Most Brilliant Modern TV Dad
To help get in the Father's Day spirit, TiVo went on a mission to find the smartest TV dads and according to the survey findings America's most brilliant TV dads should strive to be as dependable as Cliff Huxtable and loving like Cam Tucker, as "play-it-dumb" dads like Al Bundy appear low on the list of top TV Dads.
The survey results found:
The Good
Jim Halpert of "The Office" and Cam Tucker of "Modern Family" emerged as the most brilliant Modern-Day Dads, noted for their clever wit and dedication to family
The ever-reliable Cliff Huxtable of "The Cosby Show" came out on top not only as the most brilliant Classic TV Dad, but also the all-time viewers' choice of TV Dad for a day
Respondents thought Tim Taylor from "Home Improvement" and Cliff Huxtable from "The Cosby Show" are most like their own real-life dads
The Bad
When it comes to Goofiest Dads, Peter Griffin from "Family Guy" and Homer Simpson from "The Simpsons" tied at second behind bumbling Ray Barone from "Everybody Loves Raymond"
The Ugly
Jon Gosselin from "Jon & Kate Plus Eight" is the Reality TV Dad voters would most likely change the channel on, followed closely by Scott Disick from "Keeping up with the Kardashians"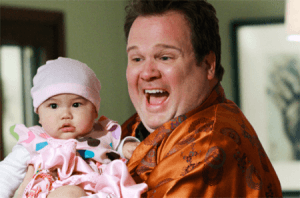 Eric Stonestreet, the actor who plays Cameron Tucker on ABC's "Modern Family," was kind enough to comment on the survey results saying, "I'm honored to have Cam chosen as most brilliant modern TV Dad, but Cam really couldn't do it without the help of his family including Mitchell.  This also confirms what I have long believed, TiVo users have great taste. Did I mention that I too love and use TiVo?"
In conjunction with the TiVo Brilliant TV Dad's survey, TiVo has launched its Dad's Tricked-Out Man Cave Sweepstakes to award one lucky father the man cave he has always wanted. Every dad, smart or goofy, deserves a place to escape and watch the game in peace. So this Father's Day, enter Dad for a chance to outfit his pad at http://www.facebook.com/tivo.  The prize includes the world's first Smart DVR – TiVo Premiere, a TiVo Wireless G Network Adapter, one year of FREE TiVo service, and a brand new 46" Samsung LCD HDTV.
NO PURCHASE OR PAYMENT NECESSARY TO ENTER OR WIN. Sweepstakes ends 6/19/2011 at 11:59:59 p.m. ET.  Open only to current legal residents of the 50 states of the United States and D.C. who are the age of majority in their respective jurisdiction at the time of entry and are a fan of the TiVo page on Facebook (www.facebook.com/tivo) at the time of entry.  Void where prohibited. See Official Rules for details.  Sponsored by TiVo Inc., Alviso, CA  95002 ("Sponsor").
For TiVo Customer Support call 877-367-8486.  2160 Gold Street, Alviso, CA 95002-2160.  Please feel free to review our Privacy Policy.