Want to work for TiVo? Here's TiVo's guide to get started
How can I do what I do at TiVo?  This is a question those of us at TiVo are often asked outside the office.
Last year our staff here at TiVo grew by 30%.  We were very busy looking for, interviewing and hiring talented folks.  Looking back over 2010 here are some observations:
What sort of skill sets does TiVo look for?
The overwhelming majority of last year's hires were in our engineering teams.  Not a surprise, there is a lot of smarts that goes into making an award-winning technology and service.  Here is a breakdown of where our larger groups of hires were made by general skill set:
82% Engineering & IT
6% UI & Research
5% Sales & Marketing
4% Customer Service & Operations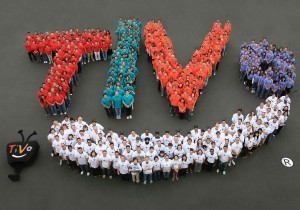 What channels does TiVo use to find its talent?
We share this information here, under the question "How does TiVo find talent?"
Are referrals about a TiVo employee referring me in?
Not necessarily.  We've tried to put some power in the hands the visitors who come to jobs page…
Get "in": We've partnered with LinkedIn so that if you have a LinkedIn profile and are visiting a TiVo job, look for the "in" blue square icon with white lettering.  When you click on it a pop up window will show who in your LinkedIn network is already here at TiVo or knows someone at TiVo.   That way you can contact the person in your network and ask them to introduce you to the TiVo employee
Refer a TiVo job to someone you know: Above the "in" icon is a rotate icon with "Send a Jobvite."   We've enabled you to use your favorite email platform or social media platform to share the opportunity.  It might be a direct message, a status update or a wall posting – but you can be a good friend or colleague and refer someone to a role at TiVo.  They just might return the favor!
Can I "follow" TiVo for career purposes?
Yes, we've enhanced our corporate profile page on LinkedIn.  There you can see some of our most challenging openings, read TiVo news, view some of our organizations demographics and contact some of our recruiters with your questions.
These are some great ways to know about our organization, learn about our openings and "raise your hand" in interest to joining us here at TiVo!
William Uranga leads TiVo's band of recruiters.  They are always identifying today's talent as well as up-and-coming talent for our organization.  William can be found and contacted via LinkedIn, Twitter, and Facebook.