TiVo Has the Oscars Covered Beyond the Red Carpet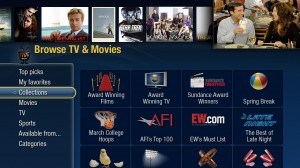 For movie buffs excited to host at-home red-carpet affairs during award season, TiVo has introduced an "Award Winning Films" feature for as part of TiVo Collections. This collection delivers Oscar award-winning films organized by decade as well as this year's nominated films available through their cable lineup or on demand from Web partners like Amazon Video On Demand, Netflix or BLOCKBUSTER.
If you are a movie buff here's a few ideas for using the "Award Winning Films" Collection feature:
Plan an Oscar Flashback Weekend Marathon – Catch up on past winners with the ability to view Oscar winning films by past decades.  Whether you want Rain Man from 1988 or Forrest Gump from 1994, you can find and watch with just a few clicks of the peanut remote.
Browse For Your Favorite Stars – It's not just about the films, but about actors and the performance.  Users can browse for award-winning actors and actresses, and even directors, to watch them as other characters and roles.
TiVo Premiere's Collections feature highlights the best that television and the web have to offer – all grouped into fresh, fun and up-to-date categories. You can explore topical collections, event-driven collections, seasonal selections and groups of shows related to something new, interesting or popular.
To learn more about TiVo Collections and other TiVo Premiere features visit www.tivo.com.