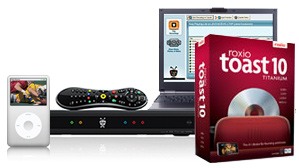 It's official. With TiVo® Desktop Plus software you can now transfer your TiVo recordings to the Apple iPad, allowing you to take your favorite shows with you wherever you go (Roxio Toast® Titanium software is required for Mac users). The new software also supports other portable devices such as the iPhone, the Apple iPod Touch, the DROID by Motorola, the Palm Pre and several Blackberry models.
Plus, with TiVo Desktop software you can now view folders from the PC on your TiVo DVR – a feature that users have been requesting for some time.
Several other updates are available for both TiVo Desktop and TiVo Desktop Plus. You can learn more about the updates and how to take advantage of the TiVo Desktop features by visiting www.tivo.com/desktop.
What show are you looking forward to watching on the iPad?