FrameChannel App Brings Personalized Content from the Web to Your Big Screen at Home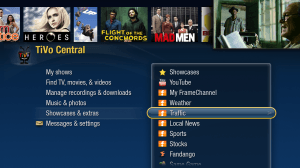 There's been a lot of talk about bringing the Web to TV lately.  Here at TiVo, we're excited that starting today, any broadband connected TiVo Series2™, Series3™, TiVo HD and Premiere DVRs can access the new FrameChannel app, which is yet another step in our ongoing mission to bring the best of the Web to your TV.
You can now personalize the delivery of local news, weather and sports, as well as updates from social networks like Facebook, Twitter and Flickr, right on your TV. FrameChannel adds to the growing content already available on the TiVo service, combining cable, movies, web and music into one box.
Essentially, the FrameChannel app helps you create a slideshow of information, based on your location and preferences, which the TiVo box's broadband connection then automatically keeps up-to-the-minute. You can receive the latest local news, weather, traffic, stocks or see the latest sport scores – all customized based on your zip code.   Plus, you can deepen the personalization with thousands of choices, including updates from your social networks like Facebook, LinkedIn, Twitter and Digg.  You can even create a slideshow of pictures from Facebook, Flickr, and other sites.  (While I love seeing the photos of my college reunion on my TV at home, I cringe at the idea of seeing a photo of myself on a big screen!)
It's free and easy to activate  FrameChannel on your TiVo box by visiting tivo.framechannel.com. Check it out, and let us know what you think!
Bard Williams is Director of Partner, Retail and International marketing for TiVo Inc.