TiVo® Premiere Debuts in Stores Nationwide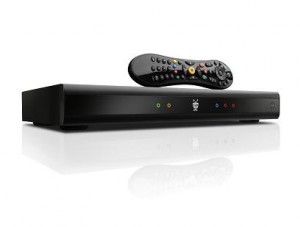 The time has come. TiVo® Premiere and TiVo® Premiere XL boxes are available for purchase at Best Buy retail stores and shipping today from tivo.com. Only with the TiVo Premiere box can you…
Search like never before – When you know just what you want, Premiere's search lets you find your favorite shows faster and from many sources – whether it's from cable, a funny outtake from YouTube, or a movie from broadband sources such as Netflix, Amazon VOD, or Blockbuster On Demand, it's all brought together into one unified search experience.*
Browse and Discover – Feeling indecisive? The TiVo Premiere box also allows you to browse content organized by category or topic, and comes complete with a full-screen HD menu that includes a display of movie posters and TV show logos for exploring. This makes it simple to discover new shows, movies or videos to watch or record. You can discover things you had no idea existed by browsing the discovery bar for TV and movies that are popular with other customers or similar content to what you already enjoy.
TiVo Premiere is built on Adobe Flash software, which offers a pathway to other application experiences and development opportunities. In response to customers and subscriber feedback, the TiVo Premiere box also includes an on-screen disk meter which shows you how much room is left to record, and has new video window which allows you to watch a show while navigating the TiVo menus.
The TiVo Premiere box has up to 45 hours of HD storage space or up to 400 hours of standard definition programming capacity. And for those who want even more options, the TiVo Premiere XL box holds up to 150 hours of high-definition or up to 1350 hours of standard definition programming.
*Additional fees may apply from third-party content providers.  Subscription to TiVo service required and sold separately.